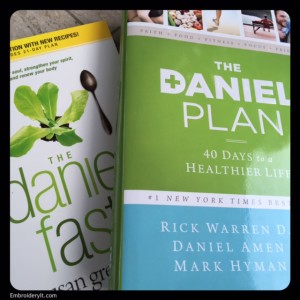 Dear Friends,
I hope you are all doing well this summer.  This morning it is a cool, rainy day here in Michigan but I am hopeful the sun will come out this afternoon.  I'm trying to grab hold of all the summer days we have left as I know it will be only a few short weeks and the beautiful green leaves will be turning bright yellow orange and red.
Now that my travel is over with it is time for me to hit hard back with my weight loss journey.  This past week I've been back to the gym every day.  I went to Weight Watchers on Saturday and I am also following the Daniel Plan in conjunction with Weight Watchers.  It is a Christian lifestyle program based on Faith, Food, Fitness, Focus and Friends.
From my original weight, I am only down 8 pounds now.  At one point I was down 14 pounds.  Oh how they can quickly come on when we are out of our routines.  Anyway, now I know I will have a stretch here where I can focus on healthy eating and exercise and I am truly trying to turn some of this into good habits.  Portion control and sweets are both my downfall.
If any of you have tried the Daniel Plan or are using it currently, shoot me an e-mail or leave a comment.  I'd love to hear how you are doing.
Blessings everyone,
Nancy
be creative daily and live life beautifully