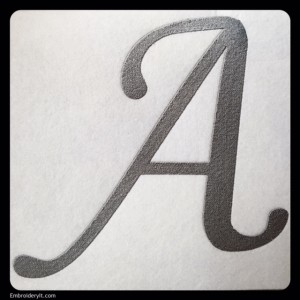 Dear Friends,
I'm happy to announce the debut of oversized machine embroidery monograms!
Now that I have a larger machine I am excited to try larger size digitizing and I'm starting with my script monograms.
Each letter is/will be offered individually in 3 sizes which require hoops larger than 5 x 7.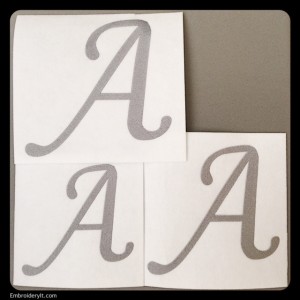 These oversized monograms will be perfect for items such a pillows, seat covers, grill covers, Christmas tree skirts, wall hangings and so much more.
Currently one letter is released at a time – approximately a new letter each week.  As each new letter is released it will be offered for only $1.00 which will be %50 off the regular price.
Now for those of you whose hoop size is 5 x 7 or smaller, never fear.  A regular size set of the same letter, again in 3 sizes is also available.  As with the oversized set, this regular sized set is also offered at an introductory price of only $1.00.
These smaller sized monograms will look beautiful on items such as shirts, jackets and more!
Enjoy working with monograms friends.  I'd love to hear what you enjoy stitching monograms on.
Nancy
be creative daily and live life beautifully