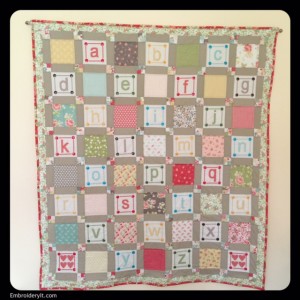 Dear Friends,
We are ready for the beginning of a new free alphabet set.  This is country charm at its best with a free cross stitch alphabet.  We will continue it as before with a new letter being released each week.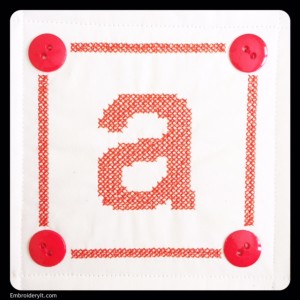 This week is special as not only will you receive the letter "a" but also the "heart" design.  By the way, these designs fit in your 4 x 4 hoop.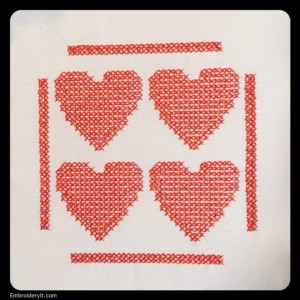 I have turned my alphabet into a quilt but these designs would look sweet on towels, tote bags or other items that you wish to put a monogram on.
I won't have quilting directions here as there are thousands on the internet.  I just came up with my own design.  I will tell you that I used 1 pack of charm squares and two packs of mini charm squares.  They are called "Strawberry Fields" from Moda.  I stitched each letter of the alphabet as well as two of the heart designs.  Once stitched, I cut those down to 5″ square which is the size of the charm squares.  I cut the mini charm squares into fourths and them mixed them up and re-stitched together for the little patchwork squares.  For sashing I used what I found on hand and cut strips 2 1/2″ wide.  I bought 1/3 yard matching fabric for the green border and 1/2 yard for the red border.  For the backing, I used something I had on hand.
One more thing, I knew this would be a wall quilt so I added the buttons for just a bit of fun charm.  If it was going to be a lap quilt or a quilt for a baby, I'd have left them off.
If you choose to turn your cross stitch letters into a quilt, I encourage you to be creative or look through your patterns.  No matter how you decide to use these letters, I would love to see a picture of what you create!
Enjoy everyone,
Nancy
be creative daily and live life beautifully.