Hi Friends,
This past Saturday I spent a wonderful day in Capac, Michigan along with about 70 other stitchers, quilters, and embroiderers at the Michigan Stitchers Spring Gathering.
The doors opened at 9:00 AM where I was able to get settled into my seat and visit with the ladies as they arrived.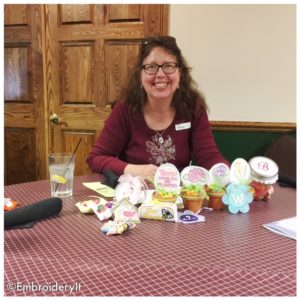 I spoke about Embroidery It and the Embroidery Bee Club and showed a variety of Embroidery Bee designs.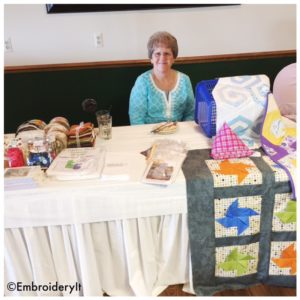 There were two shops displaying a variety of items for sale who also spoke.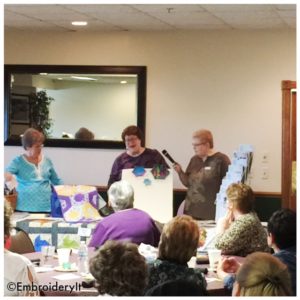 The first showed a hexagon acrylic ruler and how you could make these hexagon bowls.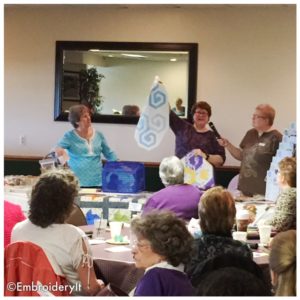 She also showed how the hexagon could be made into a quilt.
Another project for us was an IPad lap holder that was stuffed with rice.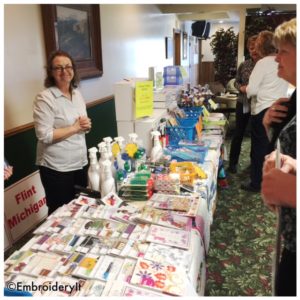 In the other shop, the lady had a Brother Scan N Cut.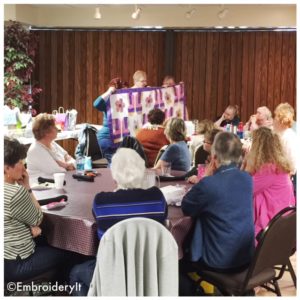 Although she didn't demonstrate the Scan N Cut, she did show projects which could be made with it.  Here, the flowers in the quilt blocks were cut with the Scan N Cut.
*******  OK, I have to ask  ******  Do you have an electronic fabric cutter such as the Scan N Cut or some other brand like the Silhouette or Cricket.  Or other brand?  If you do, would you please let me know what you like or don't like about it.  I must say I was quite fascinated by this and am interested in what is good or bad about the different ones out there.  THANK YOU!!
Before lunch, show-and-tell began and was then finished after lunch.  There were so many beautiful projects shown by everyone.  Here is a handful of items.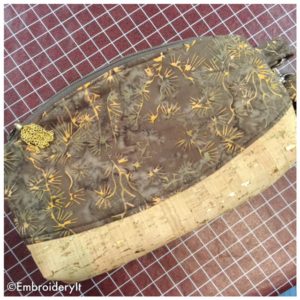 The bottom of this purse was made from Cork Fabric!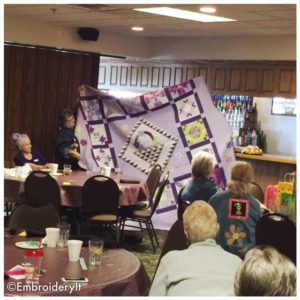 Just look at this vintage Singer sewing machine!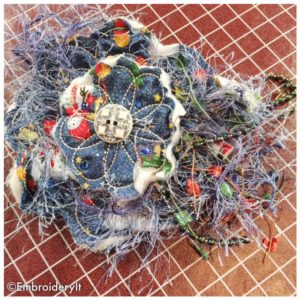 This is just a small sampling of what was shown at the event.
I want to say the next part correctly so if anyone has something to add here, please let me know so I may correct the following.  The Michigan Stitchers operate through the Mitten State Stitchers Yahoo Group that you may find HERE.  So if you are local, you may wish to check them out.
Happy Stitching Everyone, and don't forget to leave a comment about your electronic cutting machine.  Thanks!! 🙂
Nancy
be creative daily and live life beautifully