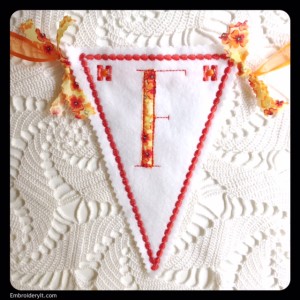 Dear Friends,
The letter F in the Let's Celebrate machine embroidered banner has just been released.  Get it for free this week down at the bottom of my home page.  All previous letters are available in the Embroidery It Etsy store for just $1.50 each.
You can use these letters to create words and make decorations for a party.  Or you can spell out seasonal words and phrases and use the banner as a home décor item.  Banners are hugely popular these days and creating these banners is a fun, easy and quick project.
The letters have just a hint of applique and the edges are intentionally left a little big raggedy for that homespun look.  I've stitched mine that you see in the photos on felt and then trimmed about 1/4 inch outside the decorative stitching with pinking shears.
Enjoy!
Nancy
be creative daily and live life beautifully