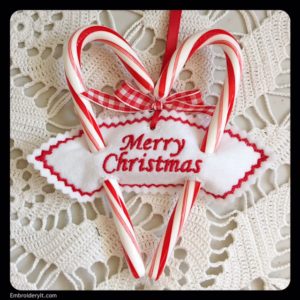 Dear Friends,
Candy canes just speak Christmas with their beautiful red and white stripes.  They are such a fun addition on the tree where children can come and pluck one each day.  They adorn packages beautifully and go great with a steaming mug of hot chocolate.
These are a fun in the hoop machine embroidery project.  All designs are made in your 4 x 4 hoop.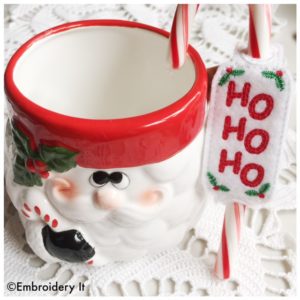 Here are just a few ways to add just a touch to those candy canes that boost their gift giving presentation.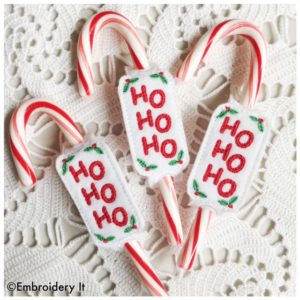 Ho Ho Ho Candy Cane Sliders are designed to make 3 in one hooping to get your gifts done three times as fast.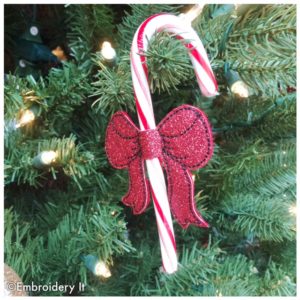 The Candy Cane Bow looks beautiful done in felt, or here you see it made with glitter vinyl.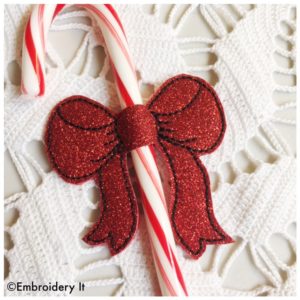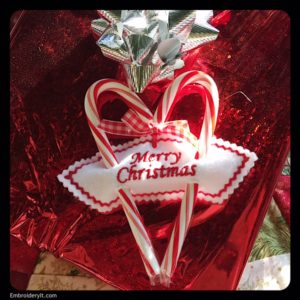 Two candy canes create a lovely heart in this Merry Christmas Sweetheart design.
Have fun with these projects.  It is a busy season for sure, but these projects are all quick and easy, stitching up in just a few minutes.  They create that added special touch that makes them great for coworkers, classmates, neighbors and more.  Add one to your plate of cookies or homemade candy.  They are sure to bring a smile.
Designs can be found here:
Merry Christmas Sweetheart in Etsy and in Zibbet
Ho Ho Ho Candy Cane Sliders in Etsy and in Zibbet
Candy Cane Bow in Etsy and in Zibbet
Make it a great day friends as you prepare for this beautiful season.
Nancy
be creative daily and live life beautifully