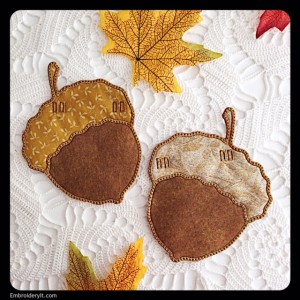 Dear Friends,
You are getting your homes all spiffed up in beautiful colors of golds reds and browns.  Fall is such a gorgeous time of year.
To help with your decorating needs The Banner Acorn has been released.  It is designed to coordinate with the Banner Letters which are available in the Etsy store.  You can get the Banner Acorn HERE.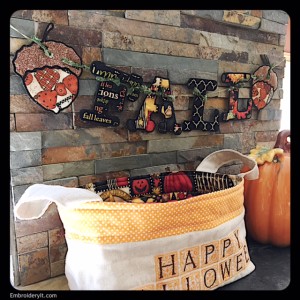 The banner items can be used to decorate your front door, office, classroom, dorm room and camper.  They are a freestanding applique that you can use any fabric to match your room.  The button holes are the final stitch stop and can be eliminated so the acorn becomes an applique which is perfect for a fall hot pad or placemats and more!
As for me, I've been spending time doing some fall cleaning and adding my fall décor touches here and there in our home which gives it a feeling of warmth and coziness on these cooler days.
Hugs to each of you,
Nancy
be creative daily and live life beautifully