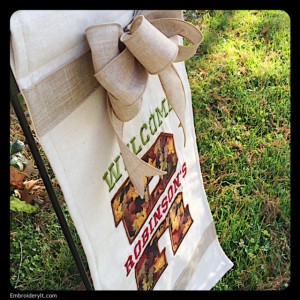 Dear Friends,
I finished the garden flag I had been working on for my dear brother and Sister-in-law. I embroidered the design onto ogsnaburg fabric which you can find at the store located with the utility fabrics. Then I stitched on the ribbon stripes and finally backed it with duck cloth. When turned right side out I did a bit of topstitching around the edge as well. I didn't use a pattern, just kind of winged the design myself using an existing garden flag for the approximate size. For the finishing touch I added a bow out of the same ribbon that was made the stripes. I think I need a bit of bow making practice. 🙂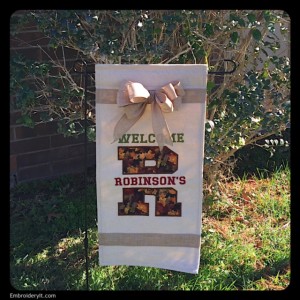 This was the first one I made and have now made a couple more since using burlap which was fun to stitch on. In hindsight, I wish I would have bought some purple Kansas State wildcat fabric to create the monogram letter R. Maybe I will just have to make them another one next year.
The small font was built into my machine but the applique letter "R" is from 8 Claws and a Paw.
Happy Embroidering everyone,
Nancy
be creative daily and live life beautifully