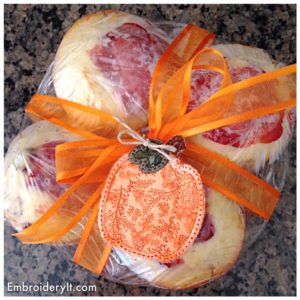 Dear Friends,
School has started and cooler temperatures are happening here in Michigan.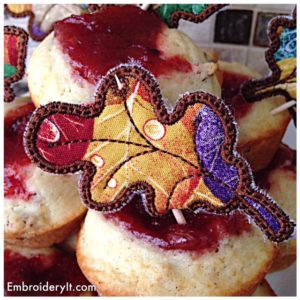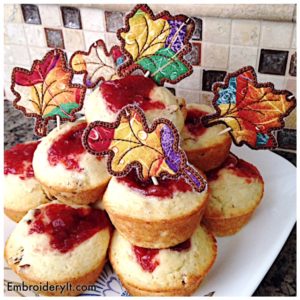 I feel the need to spend time in the kitchen whipping up comfort foods.  The Embroidery JAM Fall set makes a perfect muffin topper when making the small size.  To learn more about Embroidery JAM, you can read this post here, but basically it is a mix and match of designs as you please.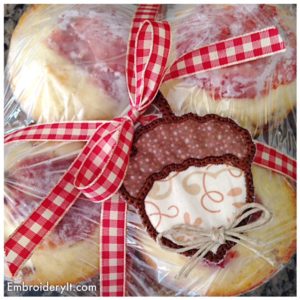 I want to share with you my recipe for these jelly muffins that are a hit at our home and so pretty to give to a neighbor.  A pretty embroidered fall muffin topper makes them a quick sale at church and school bake sales!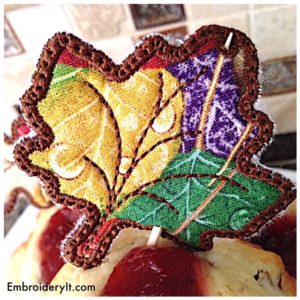 Jelly Muffins
1 3/4 cup all-purpose flour
1/4 cup sugar
2 teaspoons baking powder
1/2 teaspoon salt
1 egg beaten
3/4 cup milk
1/3 cup cooking oil
jelly
In a large mixing bowl, stir together the dry ingredients.  In a small bowl combine the wet ingredients except for the jelly.
Add the wet ingredients to the dry ingredients all at once and stir until just moistened.  Better should be lumpy.
Grease muffin cups or line with paper cups and fill 2/3 full
Spoon 1 teaspoon jelly atop batter in each muffin cup.
Bake in a 400 degree oven for 20 to 25 minutes or till golden.
Makes 10 to 12 muffins.
YUM!!!!  Enjoy with just a bit of butter.
Nancy
be creative daily and live life beautfully