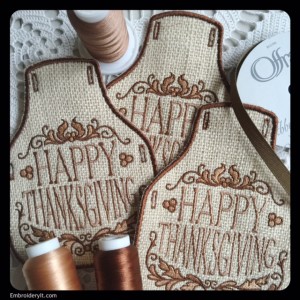 Dear Friends,
This year for Thanksgiving we are getting to spend it with my brother and his family, my mother and two of our three children.  We have so much to be thankful for.  Big things, little things, there is goodness and so many blessings all around if we just open our eyes to see it.
Today I'd like to share with you my list of top 10 things I'm thankful for.
10.  Living in the Midwest.  This is home to me and I am so thankful that my husband's job has brought us back to the Midwest where life is just a little slower, a little less flashy and beauty that takes my breath away.
9.  Our military and emergency personnel who keep us safe and who give so much of themselves to all in need.
8.  My health.  Any issues I have I am able to live and deal with but generally speaking I am in good health and for that I am truly thankful.
7.  Our home, car, hot water, food on the table and all the many tangible blessings and that includes my embroidery machine.
6.   My ability to create in all areas of my life.  Machine embroidery, crafts, cooking and decorating our home are all ways I can express my creativity and I'm thankful to be able to do so.
5.  My business Embroidery It. Let me share that I have wanted my own business for years. Seriously years! The closest I ever came to having my own business before Embroidery It was I belonged to a party plan company for three years. Even though I could schedule my own hours, it was still their business and not truly my own. I longed for my own creative business and I was so scared when I took the leap and went forward with Embroidery It. It may be small, but it is 100% mine and I'm thankful for it each and every day.
4.  I'm thankful for YOU. Oh my goodness you are some wonderful people.  And dear friends, you are helping me with #7. #6 and #5 on my list so "thank you so much."
3.  Our extended families and our church family.
2.  My husband and children and our little old beagle.
1. I am so thankful that Jesus died on the cross for all believers and that he forgives all our weaknesses so that we may have everlasting life with Him.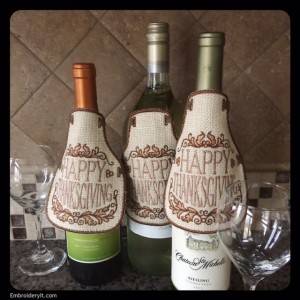 Wishing each of you a very Happy Thanksgiving today.
Love,
Nancy
ps.  In-the-hoop embroidery design is from Embroidery Library