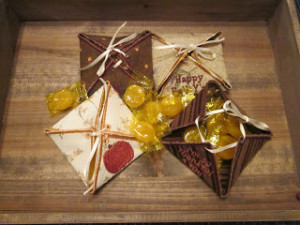 Photo Courtesy of Granny Deb Designs
Dear Friends,
I'm just thrilled to be showing you Embroidery It's Fall 4 Flap Gift Boxes stitched by Debbie at Granny Deb Designs.
She is getting things lined up now for the fall selling season.  Smart girl!  For those of you selling at fall craft shows, NOW is the time to start.
Debbie sells her finished handmade items in her Etsy store, also Granny Deb Designs.  You've got to see her beautiful work!  She has embroidered items as well as beautiful quilted items and fabric purses.  Adorable!
Thank you Debbie for blogging about Embroidery It.
If you are a blogger and would like to collaborate with Embroidery It, just leave a comment below or hit reply on any newsletter.  I'll get right back to you with details.
You can find the Fall 4 Flap Gift Boxes in the Embroidery It Store HERE.
Make it a great day everyone,
Nancy
be creative daily and live life beautifully