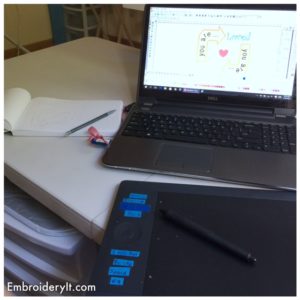 Dear Friends,
Here is a sneak peek behind the scenes of creating an Embroidery design.
Here I am in the Embroidery It studio.  First I sketch my designs on my sketch pad.  I always use a pencil and sometimes colored pencils.
Then I transfer the design to the computer using embroidery software.  (I use Generations, but there are a number of different ones out on the market.  Most have a 30 day trial so if you are looking for one, try several to see which feels the most intuitive to you)  What you see in front of the computer is an electronic sketch pad or tablet and pen.  I use a Wacom, but again there are several different ones out there.
All my designs are digitized by hand.  I never use auto digitizing.  Also, all designs at Embroidery It are my own artwork.  You will not find these designs elsewhere.
After the design is digitized, I test it out on my embroidery machine.  Sometimes what I think looks good in my head and on paper doesn't always translate well to thread and fabric.
I make any computer changes to the design as is necessary and stitch the design again.
When I'm satisfied with the design I gather it in all the formats.
I also photograph the finished design.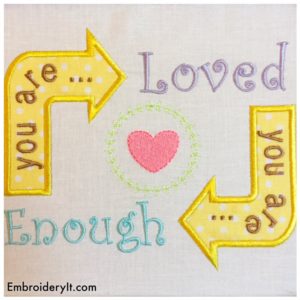 Then I put the design in my Etsy shop and I write about it here!
And that is what goes into the making of a design.
You can find this design in the Etsy shop HERE.
Happy Embroidering,
Nancy
be creative daily and live life beautifully