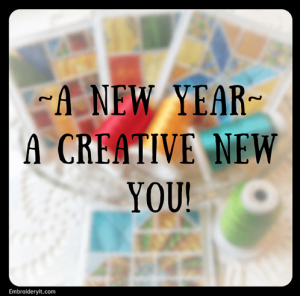 Friends,  As young children we were encouraged to use our imagination and be creative.  You can remember back to sitting on your mother or grandmother's lap as they taught you to use a sewing machine.  Perhaps they also taught you to knit, crochet, or hand embroidery on tea towels.
Looking back on those moments comes with memories of appreciation of the blessings we had.  It was a time when we lived in the moment of the creative process enjoying each step along the way.
Fast forward to today and we are bombarded with the facets of life which often times pull us in multiple directions at once.  Our spouses need us.  Our children and grandchildren need us.  Coworkers and bosses need us.  Church groups and other organizations we belong to need us.  And then, of course, our home needs us with its constant cleaning, laundry and never ending meals all pulling for our attention.
It's no wonder we've lost some of our creative mojo and appreciation of the little blessings of life.  For many of us, when we are creating, all the needs in our lives are floating around in the back of our heads nudging us to be doing something else and keeping us from truly enjoying the creative process that we once used to take for granted.
The intent of this series is to help bring back some of those feelings we had of enjoying and appreciating those creative moments as well as the beauty and blessings around us.  It is about not letting those needs interfere with the enjoyment of the creative process.
Get ready for A New Year, A Creative New You.  This free blog series begins January 1st.  To get yourself ready you will want to have a notebook and calendar or day planner as we go through the series.
Blessings,
Nancy