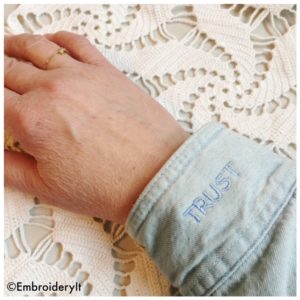 Michigan was hit with a huge wind storm on Wednesday leaving hundreds of thousands without power.  We were one of them.  No electricity, not internet or cell phone service.  Thankfully as soon as hubby got home he was able to connect a small generator we have to run enough electricity for the refrigerator, deep freeze and well pump so we could have water. . We had a couple of large trees fall, one hitting our daughter's boyfriend's car.  We will take care of that.  Trust.  Now I'm a country mouse through and through, but little hiccups like these throw me for a loop.  Trust.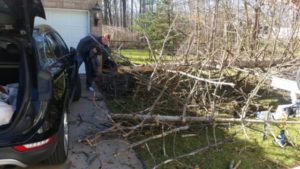 Friends, since I chose the word "Trust" at the end of last year, that word has come into my mind every single day.  I don't understand why that one simple action of trust is so hard for me.  I think about it and pray.  Alot.  You can read my initial blog post on trust HERE.
I think and pray about the littlest of things.  I try a new recipe and I hope it turns out and is not a waste of time and money.  I've misplaced my car keys.  My weight.  Trust.
I think and pray about the bigger things. Hubby's job.  Embroidery It.  Three college age children.  My mom.  Trust.
And I think and pray about the biggest of things.  Natural disasters.  ISIS.  Drug trafficking.  Trust.
I hear so many people say, "God doesn't give us any more than we can handle."  Sometimes I think the truth is 'we handle what God gives us.'
But lately, as I spent time thinking about trust, I've had a new perspective about it.
God is so great and he loves us so much, that perhaps we need to trust that when we come through our problems and issues, we will, in some way, become greater or better.  God loves each one of us so greatly that he can use the simplest of our problems for His good to improve our lives.
So now as I think of my problems and I think of 'Trust', I wonder and think about how I will grow?  How will my life become better as I come out on the other side?  How is God using this situation in my life?  I'm no longer going to just Trust I get through the situation.  I'm going to Trust God has something in store for me that is good and wonderful as I get through to the other side of this problem or situation.
I hope you can see my thought process and understand the feelings I'm trying to convey here about Trust. And I trust that these words have in some way been a blessing to you.
With much love,
Nancy