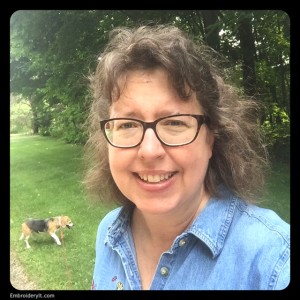 Over this past month, losing weight has been very difficult for me.  On May 16th I was down to my lowest that I had seen in some time.  I could even tell in my face as well as my waistline that I had lost 14 solid pounds.  I was almost half way to my 30 pound weight loss goal.  Then came Tim's graduation.  We had lots of family visiting us for a week.  The week after that was the week before our vacation so no motivation that week knowing what was ahead.  Then came a week of vacation to a country I'd never visited before and I wanted to experience it all and that included food.  I know I all I just gave you were excuses.
Since May 16th I watch the scale as it slowly crept up.  The day after our vacation I was now up 6 pounds.  Sigh.  I worked so hard for those 14 pounds.
Now that I am home from vacation I'm trying very hard to get back into the groove of things.  Mike and I went to Weight Watchers on Saturday.  I've been back to the gym or walk/jogging 3 1/4 miles at home.  Even though I've been back to Weight Watchers, I'm finding it difficult to stay on the program.  Afternoons are so difficult for me and I've said it before I hate exercise.  I wish I liked it but I just don't.  The thing is, I think it is probably the most important thing we can do for our bodies.
I've been giving this a lot of thought.  You can agree or disagree with me, it is just my own opinion here.  There are so many good things we can do for our bodies.  Things like: eating right, exercise, stop smoking, decrease stress, getting plenty of sleep, and the list goes on.
All these things are important, but I feel like one item on this list trumps all the others by just a smidgen.  That item is exercise.
The reason I think it trumps the rest is because if we exercise, that will help us lose weight.  It will help us get better sleep.  It decreases depression.  It lowers our blood pressure, our cholesterol and in general re-sets our bodies hormones.  It just does so many good things for our bodies.
When I say exercise, what I'm referring to is actually getting my heart rate up.  I think it is that increase in heart rate is what does the re-setting our bodies need and releases all the right chemicals.
I was on the treadmill today.  There is a place on each side of it for me to place a 5 pound hand weight so I use two of those.   I walk for a while.  Then I lift the 10 pounds, 5 in each hand, over my head up and down as I walk.  That gets my heart rate up.  I can do this for about a minute.  Then I just walk for a while.  Next I increase the speed.  Normally up to 5 or 5.5 miles but today I went up to 7 miles an hour!  Woo Hoo!  I can barely do that for a minute.  Then I walk again for a while.  Over the course of 30 minutes I will alternate these things and I get in 3 weight liftings and 3 run/jogs.  That is 6 times during my workout I get my heart rate really up there.  I hate it.
But I feel great when I've finished.  And that is why I force myself to do it.  Friends, I just have to learn to like exercise.  I feel like this is the real key to improving my overall health.  Oh how I wish I liked exercise.  What can I do to like it more?
Did you watch America's Got Talent last week?  Did you see that 96 year old lady dance?  Wowsa!  She looks younger than my parents who are 10 years younger than her.  I bet that lady has moved her body all her life and I want to be like that, vibrant and fully alive till the day God calls me home.
Last year mom got me a Nutribullet for my birthday – Thanks Mom!!  I love that thing and make myself a smoothie most every morning for breakfast.  The recipe is the same each day except that I change out the fruit for whatever I have on hand.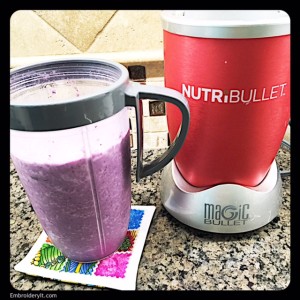 Nancy's Banana Blueberry Smoothie Recipe – Just blend all ingredients together
1/2 Banana
1/2 cup Blueberries
1/2 cup plain low fat Greek yogurt
1/3 cup old fashioned oats – uncooked
1 Tablespoon Chia seeds
1/2 cup fat free milk
Ice
I'm so glad I can ramble here on my blog.  Sometimes I just need to get my thoughts out of my head and if you've read this far then thanks for reading my friend.
Have a wonderful day everyone.
Nancy
be creative daily and live life beautifully