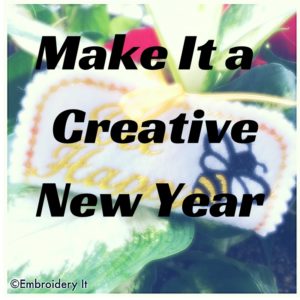 Dear Friends,
Welcome in joining me on day 5 of Make it a Creative New Year.  If you have just joined me, you can find the previous days here.  Day 1,     Day 2,     Day 3,     and  Day 4
Today we discuss when we lack motivation to create.  You can read last year's post on this HERE.  Last year's post gives some great suggestions of ways to re-inspire you and I'm going to recap them here plus add a few additional ways I've discovered.
Give your creative space a good cleaning or a face lift with a fresh coat of paint.  Maybe new shelves or other organizational systems are needed.
Turn on some favorite tunes or listen to a podcast to give you company.
Watch a creative webinar or YouTube video.
Join a guild or a club (Like the Embroidery Bee) to have new regular inspiration.
Take a class at your local sewing or craft shop.
Try a new embroidery technique.
Try a new craft all together.
Buy a new magazine or visit the library and scour the latest crafting books.
Spend some time on Pinterest.
Share what you make on Facebook and Yahoo groups.
Invite a friend or two to come and sew/embroider with you.
Volunteer to make something for a worthy charity.  I belong to a local group called Crafters with a Cause and my group quilts blankets for preemie babies.  Others will make stuffed animals for children going through surgery, knitted caps, prayer shawls and a host of other needed and appreciated items that go to our local hospitals.
Make sure everything is right in your life, you're eating well and getting plenty of sleep. Remember the good Lord took a day of rest and sometimes we just need to step back from things for a bit.  Do what we did on day one of this series, we reflected.  Reflect on what is going on in your life.  You need the understanding of this so that you can make the necessary changes to move forward.
One final, yet probably best, suggestion when we lack motivation is to see all that is good and appreciate our blessings.  If you find your lack of motivation is because there is something negative going on and you are sad, angry or upset, that must be addressed first.  That can halt our creative motivation in its tracks.  And to help aid in moving past these feelings, the very best thing we can do is to see the good, see beauty, see our blessings.  It won't change the sad or upsetting situation, but seeing beauty can sometimes lift our spirits enough to move forward again.
Tomorrow we will finish up the series.  No matter where you are on your creative journey, I'm honored you are here with me.
May you have an amazing day.
Nancy
be creative daily and live life beautifully