Dear Friends,
I have something special I would like to share with you today.  Let me tell you I am so excited because in my last newsletter I asked if there were bloggers who would like to collaborate with me to help spread the word about Embroidery It.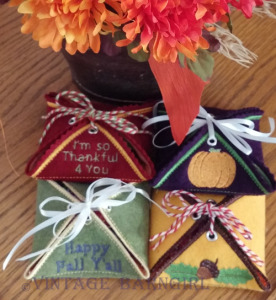 Photo Credit Vintage Barngirl
Vanessa from Vintage Barngirl was one to respond and she stitched out the Fall Gift Box Set.  Vanessa, I love the colors you used for the boxes and that red and white bakers twine is adorable!!!  Y'all can read her blog post about making these HERE.
Vanessa has a fun blog where she showcases beautiful embroidery, sewing and crafty goodness.  She is my kind of girl and I know you are going to love poking around her blog!
Friends if you are a blogger and are interested in collaborating with me, just leave me a comment here or send me an e-mail.  A quick and easy way is just to reply to any of my newsletters.  I will get back to you with more details.
Blessings everyone,
Nancy
be creative daily and live life beautifully