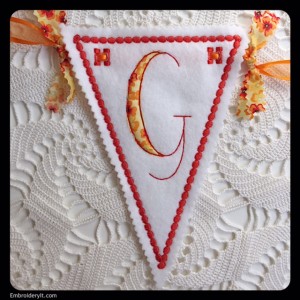 Dear Friends,
It has been a good week.  We've been to visit Emily at college and meet some of her sorority sisters as well as take her out to dinner one evening.
I feel productive in that we have accomplished much around the house this week so things just feel in order and feel peaceful.  I need that.  I strive for calm and peace in our home.  More often than not it isn't this way.  It isn't necessarily chaos, but I don't like it when I have that nagging feeling that this or that needs to be done.  So as I go to bed tonight I am thankful.
But before I go to bed, I want to give a quick reminder to grab the Let's Celebrate Banner Letter G while it is free on the website homepage.  It will be here until Wednesday when I will change it to the letter H.  After that point it goes up for sale in the Embroidery It Etsy shop.
Sending each of you a warm hug and I'm hoping you have had a simply wonderful week.
Blessings,
Nancy
be creative daily and live life beautifully