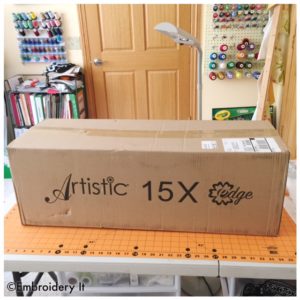 Dear Friends,
Several weeks ago I asked in the newsletter about electronic cutting machines and what you use.  What do you like or not like about the one you own.  I received lots of good information so Thank you!!!  I was honestly surprised at the number of different electric cutters are on the market.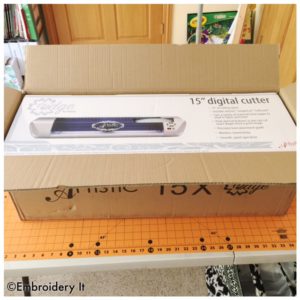 After your guidance and much continued searching of reviews and what the machines are capable of doing I decided on the Janome Artistic Edge with the Simple Cuts Software.  I had narrowed it down to between this and the Brother Scan N Cut.  My sewing machine dealer sells both of these and when I explained what my intentions were in how I want to use them, she encouraged me to go with the Janome and I chose the 15″.  Below you can see what came with it:  cutting mats, cables, blades, pens, software and very basic manual.  I purchased mine through my sewing dealer.  I could have gotten it a tad bit less by using Amazon, but honestly, my sewing machine dealer does me right.  She provides support and I think that is worth the small amount saved.  Also they are going to start up a club for these electronic cutters and I plan to join.  How fun that will be!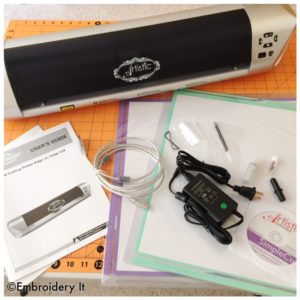 One of the biggest plans I have is to begin adding the option for rhinestones to be included with some of the embroidery designs I offer.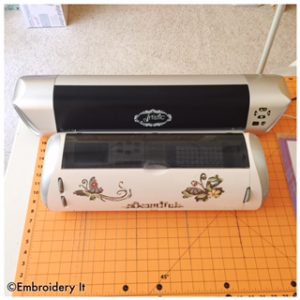 Yesterday my Artistic Edge arrived.  It is a beauty!  It is huge in comparison to the Cricut.  You can see them side-by-side above.  I have a 1st generation Cricut from about 12 years ago.  In case you are wondering why I don't just use the Cricut, it is because with the Cricut (at least my old version) you are limited to only using their designs.  I cannot incorporate my own.  Also, the Cricut doesn't have the ability for adding the rhinestones like I want.
The 15″ is also wireless and connects to the computer via Bluetooth.  That said, I've had trouble setting up the Bluetooth.  I think hubby is the missing link and will have to give me a hand with that.  🙁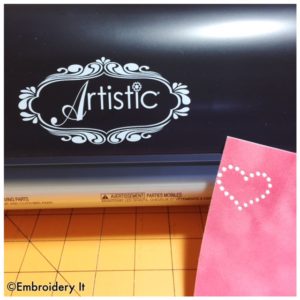 Otherwise, I've been watching YouTube videos and learning how to use it.  Unlike the Cricut where everything was integrated completely in the machine, now everything is on the computer and the machine itself has very few buttons.  It is a learning curve for sure to figure out how to operate the software which in turn operates the machine.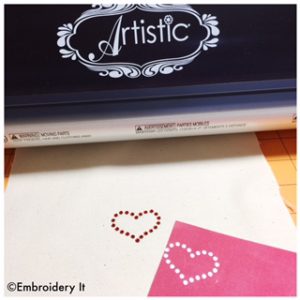 So I attempted my first rhinestone design using a heart design that was prebuilt into the software.  I cut it from flocking paper and was a little off on the placement of it.  However, it still worked perfectly.  I set the design to cut for the size rhinestones I had on hand.  Then I used transfer tape to place the rhinestones on the fabric and ironed them on as they have a heat set adhesive on the backs of each stone.  I was so excited to see the finished result.  It was the same kind of happy feeling I had when I did my very first machine embroidery design.  🙂
Just in case you are interested, I purchased the rhinestones, flocking paper and transfer tape online from Specialty Graphics Supply Inc.  I did some searching in this area as well.  There are places less expensive but I would have to purchase in such HUGE quantities.  It didn't justify me going that route and Specialty Graphics Supply Inc. had great reviews and I received my order in just a few days.  If any of you use other places for purchasing your rhinestone and crystal supplies, please leave a comment and let me know who else to check out. Thanks!
Well, that is it for now but I look forward to sharing more about my experience with the Janome Artistic Edge as I learn more and try new things on it.  Also, just for your info, it cuts much more than rhinestone designs.  It cuts fabric, paper, stencils, vinyl etc.  Now I just need to figure out a way to add another table to my little embroidery room!  Ha!  That room is already mighty full.  🙂  Right now it is sitting on my cutting table on my cutting mat.
One final word, this isn't an advertisement for the Artistic Edge.  I really haven't even tried it out enough to give you an opinion on how it works.  If you are looking into getting an electronic cutter, visit our friend Google and type in the "cutter name" and "reviews" to do your research on which one will work best for you.  🙂
Make it a great day friends.
Nancy
be creative daily and live life beautifully