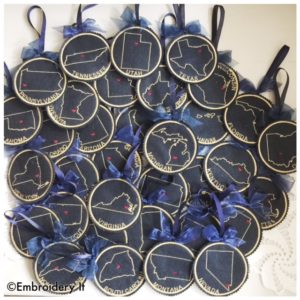 Dear Friends,
Today I have been finishing up the stitching of all 50 coasters and ornaments!  46 are currently in the Etsy and Zibbet shops and the final 4 will be available by Sunday.  I'm just thrilled with how they have turned out and Friends, I have appreciated your support with them.  For those of you who have waited for these last ones, thank you so much for your patience. Thanksgiving slowed me down a bit with Mike's parents here and then all the activities.
As we get to the end of the year, I've been spending some time fine tuning some of the plans I have for Embroidery It and I wanted to share them with you so you will know what to expect.
First off, coming January 1st will be an embroidery membership program.  It will be only $5.00 a month and each month you will receive a complete alphabet set as well as some type of a candy holder.  These will be at a substantial savings to the regular price and members will receive these designs a full month before they are released at full price to the general public.  More details on that soon.
Next will be the launch of the store on the Embroidery It website.  Embroidery It will remain on Etsy and Zibbet, but will also have a store right here so you don't have to leave.  I'm going to get the membership sight up and running first.
You know, I shouldn't be scared, but I am.  You are all such sweet and supportive people and I feel beyond blessed that you are here.  I think the biggest thing I'm scared of is that even though I've hired someone to help me with this website stuff, that it won't run quite right.  I'm just going to tell you all right now, that if any snafus come up, I hope you know I WILL make it 100% right.  I hope you all know my character by now.  This is not something I will take lightly.
Thank you for being on this journey with me and for your continued support.  It means more to me than you can ever imagine.
You are all amazing!!!
With love,
Nancy
be creative daily and live life beautifully