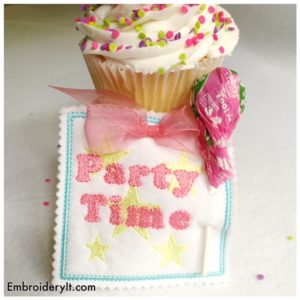 Dear Friends,
I mentioned before, I am sprinkling in a few freebies throughout the week and here is the first!  🙂
I so appreciate you letting Embroidery It into you inbox each week.  As a thank you to newsletter subscribers, I have this design free just for you.  You will receive a newsletter this morning (about 9:00 AM Eastern Time Zone) and in the newsletter is a link with a password to let you instantly download the design.  You must be a newsletter subscriber to get this free design.
If you're not a newsletter subscriber yet, it's easy!  Just enter your name and e-mail address into the box at the right.  You are then sent a confirmation e-mail that says yes, it is me and I've given you the right e-mail address.  Then you're in.
This design is just for the Embroidery It birthday party so if you're reading this and you've missed it, no worries….There is always something fun going on at Embroidery It.
Make it a great day friends,
Nancy
be creative daily and live life beautifully