Dear Friends,
There is a lot of excitement going on around here as Embroidery It is getting ready to turn 3 next week and that means it is PARTY TIME and YOU are invited!!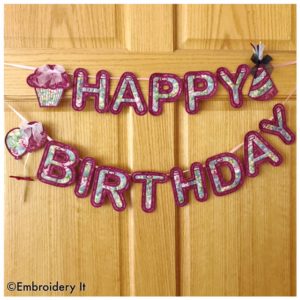 Here is what you can expect…..Each day of the week new designs/sets are going to be released and will be only $1.25 for 24 hours.  That will be a big savings to the regular price.  Then after 24 hours, the next design/set will be released.  Fun free embroidery designs will be sprinkled throughout the week you won't want to miss.  A newsletter will be sent each day with the new designs so be sure you are on the newsletter list! There is a full week of great designs lined up ready just for you to give you some fun summer stitching.  Or for those of you down under, some fun winter stitching.  🙂
So sign up for the newsletter in the link on the right and get ready for the fun to begin, Monday, June 19.
Make it a great week everyone!
Nancy
be creative daily and live life beautifully