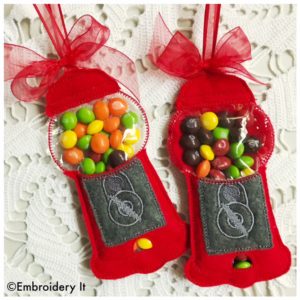 Dear Friends,
So happy to have you here today on Day 6 of the Embroidery It Birthday Party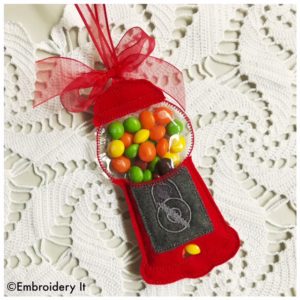 Today's Birthday Party Special is a good ol' fashioned Gumball Machine.
It is made using your 5 x 7 hoop and is stitched on felt and clear vinyl.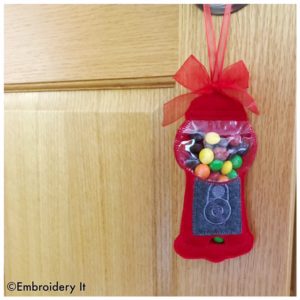 For the clear vinyl, you will find that at your local fabric store or Walmart carries it too in their fabric department.  You will find it in the section where they sell tablecloth fabric.  Just get the thin cheep stuff and you only need 4 inches wide so get 1/8 of a yard.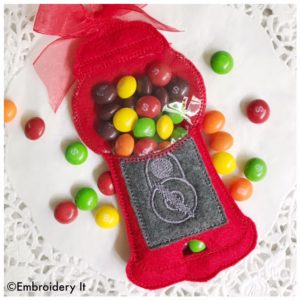 The candy goes in and out the dispenser opening at the bottom of the design.  I know what you are thinking….the candy will fall out.  Nope, it doesn't.  You pinch it a bit to get the candy to come out.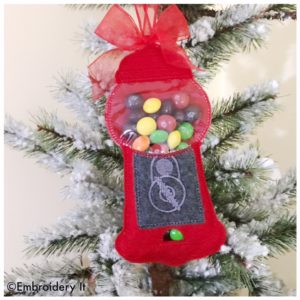 Here in the photo I've filled them with Skittles, but you could use M & M's or other small candy or small gumballs.
Also in the photo, I've stitched it with both red felt on the back as well as clear vinyl on the back.  It just depends on the look you want.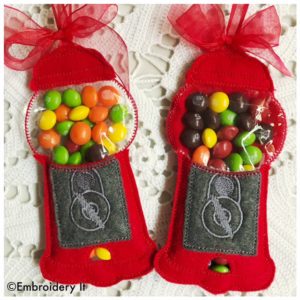 The hanger is optional.
This really is a quick and easy design and only uses two thread colors.
Find it HERE in Etsy
and
Happy Stitching!
Nancy
be creative daily and live life beautifully