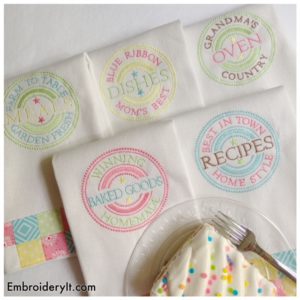 Dear Friends,
Todays Birthday design set will give you the hometown country general store feel.  Kitchen Emblems using mouth watering words will keep you thinking of the freshest ingredients, Grandma's comfort food, and your best recipes.  Use these designs on towels, aprons, placemats and all your kitchen linens to bring back that country nostalgic feel.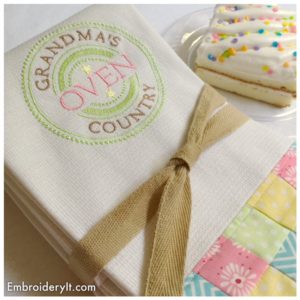 I embroidered the designs onto towels that I made out of Hardanger cotton fabric.  The Hardanger fabric has the salvage edges finished off so all I had to do was cut to length and I cut them 30″ long.  I hemmed the top with a simple roll-over hem and on the bottom I did a scrappy patchwork border using fabric and thread colors that matched.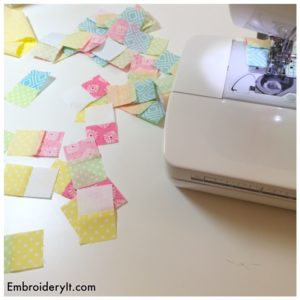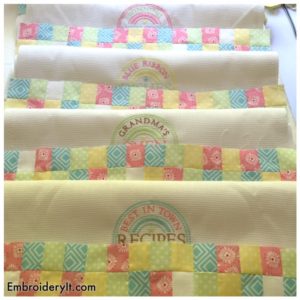 You could cut your patchwork squares any size, but I cut mine at 1 1/2″ square and then stitched them together randomly using a 1/4″ seam allowance.
I just made enough for two rows to go the length of the towel.  I finished off the back of the patchwork squares with white cotton fabric as my squares hang below the towel.  In hindsight, I could have just stitched them directly to the bottom of the towel and that probably would have been a bit easier.
I must confess, these designs have been some of my very favorite.  I think it is because they just special, what I call, trendy vintage feel to them.  You can find Kitchen Emblems HERE in the Embroidery It Etsy store.
Make it a great day everyone,
Nancy
be creative daily and live life beautifully