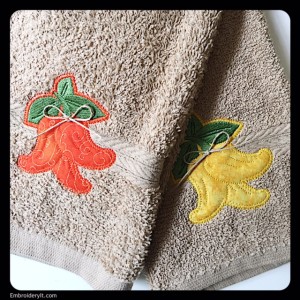 Chili pepper design comes from Embroidery Library
It was a sad day for me as I had to say good bye to my dear friend Laura.  I'm leaving on vacation and when I return she will be gone and getting settled in the great southwest state of Arizona.  Laura is both my neighbor and also my gym buddy.  Knowing we would meet at the gym is what would help keep me motivated to get up and go.  I hate exercise.
Having lived in Arizona, twice, I know how southwest décor is very popular down there so I made a couple of hand towels with chili peppers to help her feel like she is fitting in.  🙂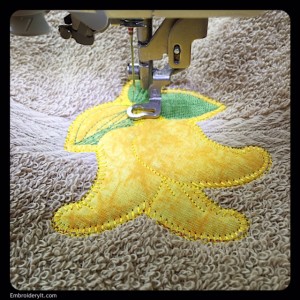 I took some twine and tied it in a bow for an added embellishment and stitched it in place.
I will miss you Laura.  Best wishes to you!
Nancy
be creative daily and live life beautifully