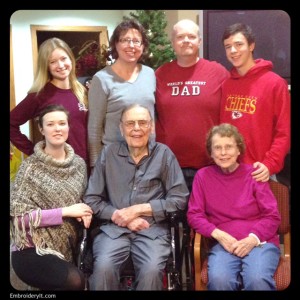 Our last family photo taken November 2014.
Dear Friends,
It was last Tuesday when my father went peacefully to be with Jesus.  Many of you have been following my journey for some time and for those of you who are new, my dad has had cancer for many years.  In fact he was diagnosed when our Emily, back row left, was just a newborn and she is 20 now.
He was uncomfortable but never in much pain and his last 40 hours were at spent at the Hospice house with us at his side.
I arrived in Kansas the Saturday before and was able to spend some precious time with both mom and dad.  Dad was alert until the end.
Thank you all for the many prayers we have received over the years for him.  Even though my life feels so upside down at the moment I know God is right at my side.  My dear friend Michelle says that Dad just made it to the party before we did and she is so right.  Someday we will join him at the best party of all.
I love each and every one of you who are here reading this and if you ever need a prayer, just leave a comment with your prayer request and know that I will be praying for you.  God is great.
Blessings,
Nancy